This first step in your book writing journey is important for so many reasons. As you create your outline, the vision you have for your book will become much more clear. And you'll build the roadmap that will get you started and keep you working toward the goal of putting your ideas into print.
Outlining includes these important steps:
Clarifying the overall theme
Deciding what kind of book you should write
Uncovering the subtopics that will become chapters in your book, to guide and persuade your reader toward the conclusion and action you want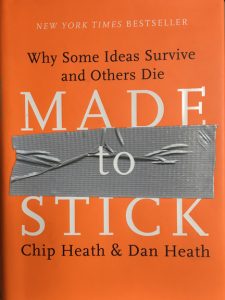 To illustrate the steps in the outlining process, I'll refer to a favorite book of mine "Made to Stick: Why Some Ideas Survive and Others Die" by Chip and Dan Heath, a New York Times Bestseller.
Define your theme
Here, you need to define the purpose of your book. What is the one, overarching idea you want to communicate to your audience?
Here's where a good collaborator can help you through a series of discussions that will help you think a little more deeply about your expertise and how to communicate it.
It's important to narrow the focus of your book to make it easier for your reader absorb and retain the information in their minds. If you have many ideas and are finding it difficult to choose, maybe you've uncovered topics for a series of books rather than just one. So much the better.
At this point, resist the urge for immediate decisiveness on your theme. There's solid research showing that taking a little extra time at this stage will help you uncover the new twist on your ideas. That might be the key to finding the memorable hook that can take your book from good to great.
You probably know John Cleese as a comedian and actor. He was a leading force behind the Monty Python comedy group and perhaps became even better known as the co-writer and star of "A Fish Called Wanda." What you may not know is that he also frequently lectures on the subject of creativity.
Citing research by psychologist Donald MacKinnon, one of his Cleese's key points is that finding the most creative ideas requires setting your brain to an open mode by exploring a wide range of ideas, then letting those ideas ruminate in your brain for a while. Here are Cleese's words from the text of one of his lectures posted on genius.com:
"Because, and this is the extraordinary thing about creativity, if you just keep your mind resting against the subject in a friendly but persistent way, sooner or later you will get a reward from your unconscious, probably in the shower later. Or at breakfast the next morning, but suddenly you are rewarded; out of the blue a new thought mysteriously appears."
For the best result, let it incubate a bit before you choose your theme.
⇒ Theme example
The Heath brothers arrived at a theme for "Made to Stick" that doubles as the subtitle: Why some ideas survive and others die. The book's purpose is to delve into why some ideas burn into our minds – whether true or false – and why, even though they might be more valuable, other ideas are so elusive and forgotten. Marketers can use the information in this book to create messaging and stories that resonate and "stick" with customers.
Most likely your theme can double as your subtitle too.
What kind of book is it?
Once you know the main idea you want to communicate, you'll need to decide what kind of book format to use. Is it best organized as a handbook, guide, educational reference, or persuasive title?
Your book may do all of those things, but there should be one structure that works best to present your theme most effectively.
⇒ Book structure example
"Made to Stick" is an educational book about new ideas, so the structure first introduces the subject, then breaks it down into subtopics, presents successful case studies, and finally, helps marketers implement the new ideas.
Subtopics to chapters
Now it's time to develop the chapter headings for your book. You want to think about how you need to lead your reader from being interested in your overall theme to understanding and believing in what you have to say.
One of my most effective university professors taught Statistics 101. (Shout-out to Dr. Jim Lackritz at SDSU.) What made him effective was that he broke up his curriculum into a number of units. He would teach the unit, then quiz us on that section of the material. In this step-by-step way, he gave us just enough new information that we were never overwhelmed by too many new concepts. As a result, we could understand each unit and build on it as we progressed through the course.
As you develop your outline, think in the same way. What are the logical "bites" of information you can pull from your main theme? In what sequence do you need to present your ideas so that the reader has the context and understanding to move to the next step?
These subtopics will help you identify and add chapter headings to your outline.
At this stage, also think about graphic ways to communicate your ideas. We all love good visuals and, though well-worn, "a picture says a thousand words" has a lot of truth to it. Plus, good graphics will be a great resource when it comes to promoting your book. When you do your promotion and public relations outreach, you'll find that bloggers, reporters, and editors love graphics and often are more prone to write about you if you can provide one.
Let me diverge a bit here: Once you have your chapters defined, you might consider releasing some or all of them as a series of eBooks. You can either sell or give them away. It's a good way to get feedback on what you're writing from your audience too, which you can then use to re-write and improve your book.
You might ask, "Why would I give away my ideas? That's why I'm writing the book." In fact, many successful business authors give away as least some chapters free. Or they will compile a series of freely-available blog posts into a book. They have found that people will still buy the book to have all the ideas – plus additional information – in one volume. Your book will also expose a wider audience to your ideas or pitch and serve as a tangible handout (or sales opportunity) when you present or speak on your topic.
OK…back to outlining.
⇒ Subtopics and chapters example
The Heath brothers chose the following sequence of chapters to illustrate the characteristics of ideas that are "Made to Stick":
Simple
Unexpected
Concrete
Credible
Emotional
Stories – case studies to illustrate how-to
Pretty easy to see the logical subtopics they chose here, isn't it? Presenting one concept at a time, they help the reader get educated on this new way to develop stories and marketing messages.
As an example of offering some of your ideas for free, "Made to Stick" readers can download the first chapter as a sample and many of the concepts in the book were first presented in a series of columns for "Fast Company." The Heath brothers also offer a number of other resources:
A "Made to Stick" website
An easy reference guide at the end of the book that condenses the chapters into prompts you can use as you develop ideas and messages
A one-page "SUCCESS" Made to Stick Model for handy reference
Other ways to apply "Made to Stick" thinking
Your book outline is a working document
Just like my "Made to Stick" example, the typical outline for most non-fiction books will look like this:
Introduction
Set the stage – why the reader should pay attention to this new direction, system or business approach in the context of today's environment
Main theme discussion, through a series of logically-sequenced subtopics/chapters
Successful case studies and examples
Wrap up and/or how to get started using this new knowledge
Of course like any plan, your outline will be a working document. You'll most likely modify and reorganize as you go. But, as discussed in my previous post Why do you need a collaborator?, the top reason people don't write the book they want to is that they don't know where to start. With your outline complete, you'll have your theme well-defined, your road map in hand, and be ready to go.
And if you're not able to carve out time for the writing yourself, find a good collaborator who will guide you through the process. That way you can let your ideas free-flow without worrying about writing structure, let your collaborator re-write it into prose, and get feedback and guidance early in the process. You'll save time, increase the quality of your book, and have your published work finished much sooner.